Alright everybirdie, the results from the earlier post are in, and now it's time to reveal what I was gearing towards: a game.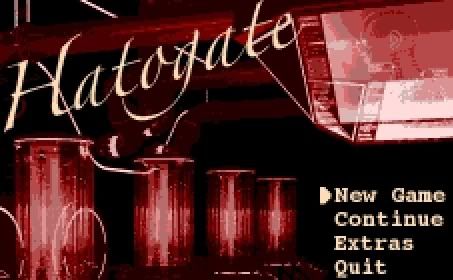 (UPDATE: As of 5:20 PM local time, 01/09/2013, all achievements have been unlocked!!)

(Enable BGM?)
It is New Year's Day, and to celebrate, you have joined some of your classmates from St. Pigeonation's to go down to the local shrine. As you get there, you notice the place is strangely empty, even compared to its usual sparsity of visitors. As you get further in, however, you see why: a Komodo Dragon has apparently decided to sunbathe in the middle of the shrine grounds and scared everybirdie off!

"The Black Serpent of Agony has appeared!" The startled, slightly agonized cry of the luzon who stands beside your group startles you...where'd he come from, anyway? Before you can ask, he tosses you a pen used in drawing manga. "Go forth, Scarlet Knight of the Sephirot! It is your destiny to wield Sae'krom, the holy spear, and slay this beast!"

Looks like you've picked up a weird one, my friend. Rummaging through your backpacks, you and your classmates scrounge together a few items you can use to deal with the situation. Things do not look very promising, however, as all that you have are a packet of Tat-P pudding mix, a unicycle, a paintbrush that (for some reason) is still wet with purple paint, a packet of millet seeds, the key to your locker, a unicycle, and the loony luzon's pen.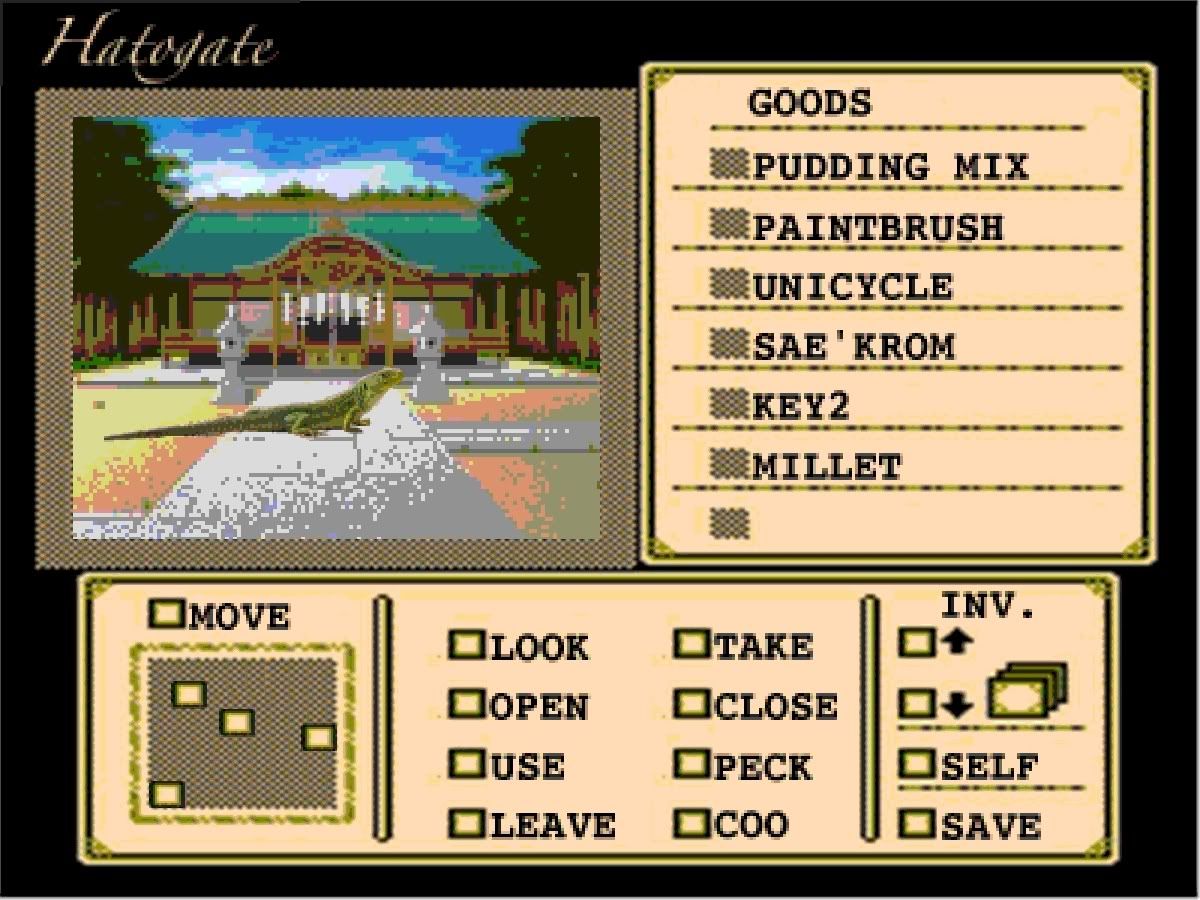 To play, reply with what you wish to do, such as "Use Unicycle on Self" or "Coo at Sae'krom." Grammar doesn't have to be perfect; as long as the system can make sense of what you say, that should work.
(UPDATE: Due to
xviith_et_seq's excessive and increasingly confusing use of them to the point of literally leaving me with a migraine, ANGHELISMS WILL NO LONGER BE ACKNOWLEDGED. Your text entry is simulating a controller input for God's sake.)
If you wish to use the Move command, simply say "Move to ____" using the following list as reference:
-Shrine to move to the center dot on the mini-map
-Entrance to move along the lower-left path
-Woods to move along the central-right path
-Spring to move along the upper-left path behind the shrine.
So, for example, if you wanted to return to the entrance, you would type in "Move to Entrance."

After you have entered a command, the system will reply letting you know the consequences, for good or ill (most likely ill) of your actions. Afterwards, assuming you didn't get yourself horribly maimed or killed, you can input another command and try again.

Good luck, and try your best to survive this latest peril to come to Littledove Hachiman City!

UPDATE: There is no need spoiler-tag your replies; I only spoiler-tagged the game so that it didn't take up a boatload of space on your page on the off-chance you didn't want to play.

UPDATE: Okay, since this has come up a number of times now: While other characters get mentioned in the text a few times, the only 2 characters you're able to interact with in any way on the first screen are yourself and the Komodo dragon.


ENDINGS UNLOCKED: 6/6
-ENDING 1: Say Your Prayers (Normal End) (unlocked by
xviith_et_seq)
-ENDING 2: Tale of the Dragonslayer (Bad End) (unlocked by
davidn)
-ENDING 3: There Goes The Neighborhood! (WTF End) (unlocked by
davidn)
-ENDING 4: True Pudding Awaits! (Pudding End) (unlocked by
xviith_et_seq)
-ENDING 5: Coo The Hell Do You Think I Am!? (Good End) (unlocked by
xviith_et_seq)
-ENDING 6: Coo This, I'm Outta Here! (Lame End) (unlocked by
kjorteo)

ACHIEVEMENTS UNLOCKED: 14/14 (UPDATE: 100% Complete!!)
-Say Your Prayers - Unlock the Normal Ending (unlocked by
xviith_et_seq)
-Komodo Dragonslayer - Unlock the Bad Ending (unlocked by
davidn)
-Gigaflare - Unlock the WTF Ending (unlocked by
davidn)
-Coo coooo!! - Unlock the Pudding Ending (unlocked by
xviith_et_seq)
-Hatodammerung - Unlock the Good Ending (unlocked by
xviith_et_seq)
-I Quit! - Unlock the Lame Ending (unlocked by
kjorteo)
-Out of Body Experience - Leave yourself behind. (unlocked by
kjorteo)
-Lighten the Load - You probably didn't need that stuff anyway. (unlocked by
kjorteo)
-Multi-Killed!! - Die 10+ times (Communal achievement ultimately unlocked by
kjorteo)
-That is No True Pudding! - Discover the label mixup in your inventory. (unlocked by
davidn)
-It's Millet Time - Mmm, tasty! (unlocked by
xviith_et_seq)
-I Feel Pretty, Oh So Pretty - Give yourself a makeover! (unlocked by
xviith_et_seq)
-Can I Keep Him? - Aww, I guess not. (unlocked by
xviith_et_seq)
-The Obligatory "Get All Other Achievements" Achievement (Hatogate 100% Complete!)